Betty was born in and raised in Milan, MI. She majored in fashion design at the School of the Art Institute in Chicago and completed her degree at SUNY, earning liberal arts credits at various colleges and universities. She began her professional life as a designer of custom-made clothing in California in 1949.
Her success brought her to New York in 1952 when she founded B.L. Griffith Designs, Inc., a manufacturer of ready-to-wear fashions. She met and married musician and actor Walter Kirke in 1955. They were married for 25 years until Walter's death in 1980. In 1972 she closed B.L. Griffith Designs, Inc. and took a short retirement.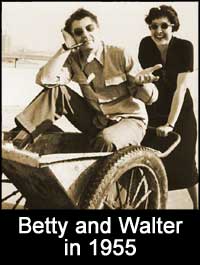 Never one to stand still very long, Betty began working under the restorer at the Costume Institute of the Metropolitan Museum of Art, New York in 1973. It was while working on the 1974 exhibition 10's, 20's, 30's Inventive Clothing that Betty first encountered the works of Madeleine Vionnet. The exhibition was a huge success and was taken on the road to Kyoto, Japan in 1975.
The director of the Met, Tom Hoving, decided that the museum should put together a booklet on Vionnet. Betty was given the responsibility of researching and creating the technical analysis of Vionnet's designs. The museum never created the booklet, but the damage was done. Betty was hooked.
In 1974 her curiosity and diligence took Betty to Manchester, England and Paris, France for detailed research, culminating in an afternoon spent visiting with the then 98-year-old designer. Not only did Vionnet insist Betty try on clothing from her personal wardrobe, she also gave her blessing for the book to be written. Betty would visit with her once more before Vionnet's death in 1975.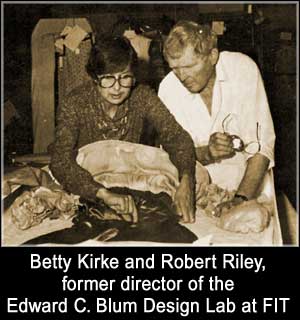 In 1979, Betty accepted the position of senior conservator of the costume and textile collection at The Museum of the Fashion Institute of Technology. She also taught in that institution's graduate program for museum studies from 1985 until her second retirement in 1991.
Betty continued to travel and to research Vionnet. Whenever possible, she took patterns of existing Vionnet creations and she spent many hours poring over hundreds of photos at the Union Française des Arts de Costume in Paris. That vast collection is now housed at the Louvre in the Arts Decoritif Museum.
The book, Madeleine Vionnet, was completed in 1985 And was first published in Japan by Kyuryudo Art Publishing. The English edition is published by Chronicle Books, San Francisco. And in November 2005, the third edition will be published.
Betty retired for the third time in 1991 and has spent her time since then traveling, writing and lecturing about the art of costume conservation and of course, on Madeleine Vionnet. In 1999 Betty was the recipient of the Millia Davenport Publication Award which recognizes excellence in scholarship in the study of costume.